Polityczne, historyczne i kulturowe aspekty unii polsko-litewskiej w twórczości Józefa Weyssenhoffa
Słowa kluczowe:
unia polsko-litewska, Wielkie Księstwo Litewskie, Józef Weyssenhoff, powieść litewska
Abstrakt
Józef  Weyssenhoff was a highly popular and widely read author at the end of the 19th and in the early 20th century. He was active as a writer, literary critic, and journalist during the time of the Young Poland movement and in the interwar period. He wrote his works at the turn of the two centuries and in the first decades of the new century. Throughout the later stage of his literary activity, i.e. from 1905 until his death, Weyssenhoff was greatly interested in politics. His contacts, reads, own observations and experiences in this matter gave rise to his tendentious political novels. The subjects he raised and reflected upon include the issue of the Polish-Lithuanian conflict, which caused a huge controversy in the first decades of the 20th century. Weyssenhoff demonstrated his own stance on the matter in his novel Union, published in 1910, which he wrote during the period of intensification of the national movement in Lithuania, particularly in Vilnius. The author regarded the movement to be politically dangerous, propagating hatred towards Poland, and able to cause the common cultural, historical, and political heritage of Poland and Lithuania to be destroyed. Young Lithuanian activists were acting to the detriment of the Polish language, depreciating the value of anything Polish. The conflict between Poland and Lithuania increased the risk of russification. The author suggested that what should be done in those circumstances was seek to restore the Polish-Lithuanian alliance. He showed the readers of his book how that process should be initiated. The marriage between the protagonists of Union: Kazimierz Rokszycki, a Pole, and Krystyna Sołomerecka, a Lithuanian, who loved their common motherland, serves as a symbol of a new, revived relationship between Poland and Lithuania.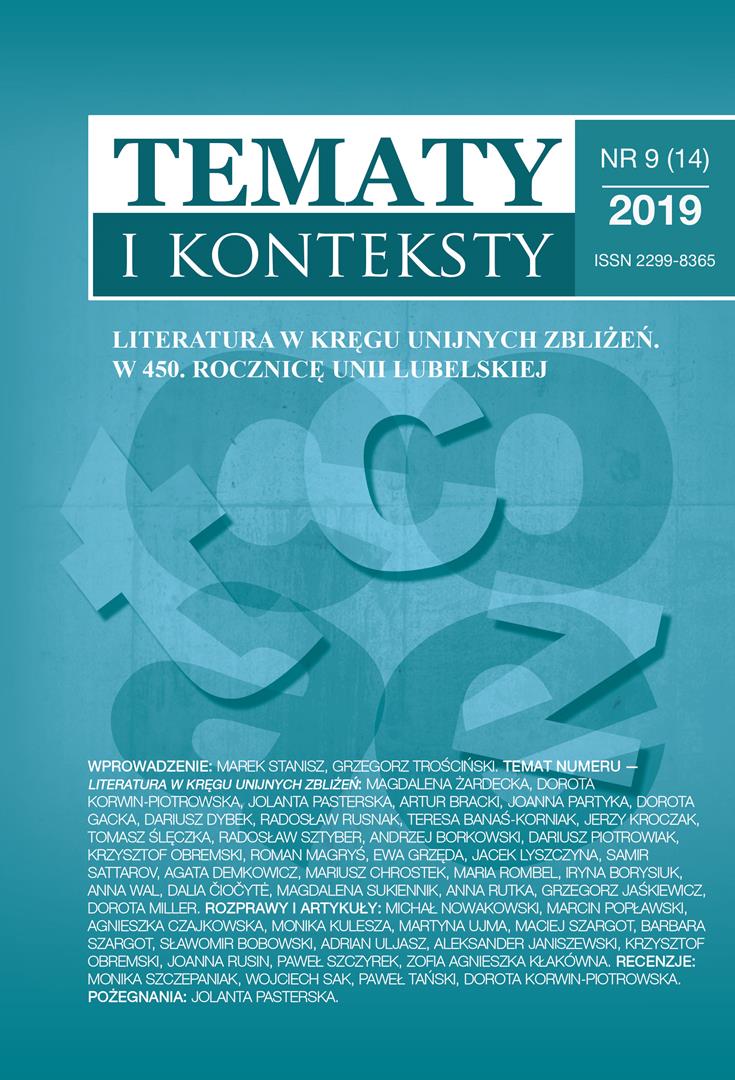 Downloads
Jak cytować
Demkowicz, A. (2019). Polityczne, historyczne i kulturowe aspekty unii polsko-litewskiej w twórczości Józefa Weyssenhoffa. Tematy I Konteksty, 14(9), 327–347. https://doi.org/10.15584/tik.2019.21